Wanna see what I've been up to?
It involves a lot of paint. Plywood. Tons of cutting. Halloween. And one of my favorite games, ev-AR.
Please say you play this. Or just promise me you will. Cross your heart and hope to die.
And I'm so excited about this little Halloween-y project that I've nearly wet my pants dozens of times.
If I say that one more time, people are gonna start a collection for my bladder surgery.
Anywho, I'm guesting this project over at Miss Lovie's today. . .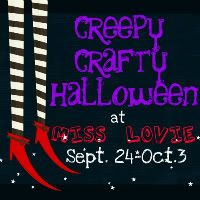 Go
check 'er out, would ya?
Squeal.