I like the night life. I like to boogie.
In a um, 30 year old mother who has 4 children, bedtime is at 9:00 kind of way.
So I guess I'm telling you I party
lame.
Now, my fam is used to my oddity. They all know by now that thee um, elevator doesn't reach the top. One twist short of a slinky. Eats soup with a fork. Lost contact with the mothership. Has a full six-pack, but lacks the plastic thingy that holds them all together.
And so forth and so on.
So they're not really surprised when I spring a new, odd "let's hang out!" weekend idea upon them.
Take the aforementioned bevi tasting event.
You know, where we
taste-tested cola drinks and picked our faves
?
Yee-ah. Also did it with chocolate once.
These are very scientific, let me assure you.
I've also dragged them out of their homes for . . .
Hot chocolate night,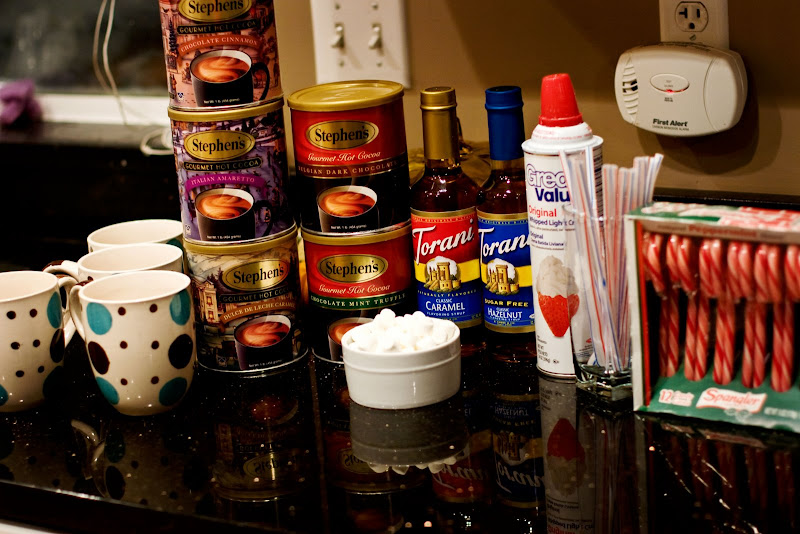 (drink until you know you're gonna wet your bed later)
"Christmas preview",
"Favorite Christmas treats" night,
And the cheese tasting event.
Most importantly, different kinds of bevi's must always be served.
Huh, are these all centered around food? Does she have an eating problem or what?
Oh, and let's not forget the latest extended family gathering,
(phew, one without food!)
dubbed "Dinner & Dress Up", which only consisted of eating,
(oh, never mind)
and packing on all of Gramma's jewelry. She really loves to collect jewelry, see. We just like to try it on.
And because I stopped snapping pics so that my family would think me only slightly less bizarre, I musn't leave out:
-Fondue night (note to self: 2 pots are needed for 8 people)
-Game night (this has been divided to card, board, and party games' night)
-Movie night
-Appetizer 'n Comedy show night
-7 Course Dinner night (in the works)
And many other oddities I can't quite remember. Now who wants to come party like a
rocksta
lame-o with us? And I can always use a few more ideas. Or "Knitting Night" is next.