27,012. That is the current number of picture files on my 2 hard drives. I've got at least double that on the comp I left in Utah. Yeah, I like pictures. Especially the old ones. I've got a lot of favorites, and here are just a few of 'em.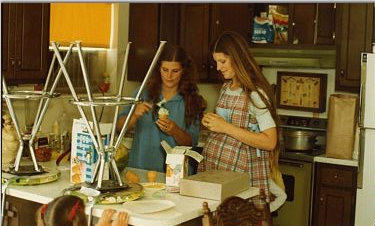 We like 'em barefoot and pregnant. That's my mom on the right. And ya know, I'm not sure who she's even pregnant with.? Is it me? Probably me. Mother?
I cannot handle a crying child. I don't mean a tantrum cry, I mean a real cry. It's the maternal instinct in me. A kid truly crying in the store can almost reduce me to tears, no joke. I think this picture is so funny, yet it stomps on my heart all at the same time.
That is soooo Jeffrey.
Firstborn grandchildren: don't they just hold a special place in the family's heart? My bro and I give little "G G" a bath, post-1st birthday cake mess. Aw. Sniffle.
My children and toilets. Sigh.
I do believe Jeff's teenage expression says a lot about just who was behind that camera. Need another hint? "Paulrus", a.k.a., stepdad.
That facial expression is priceless.